When you're pregnant & going through the nesting phase, organizing your home becomes almost an obsession! The problem comes when it seems there's not enough room for everything. I found a common theme in my Facebook due date groups: lots of mamas were struggling with putting their nursery in a small space!
My family is currently living with 1 bedroom & 1 bathroom. Talk about a small space!
When I became pregnant, I knew it was going to be a bit of a challenge to fit all the baby items needed in such a compact area!
Then I realized that 1.) I don't have to buy everything in the baby aisles at Target & 2.) I can get creative & find ways to maximize my space!
Whether you actually have a nursery space for baby & it's just tiny or you have to share rooms with the little nugget, these hacks will help rein in the chaos!
E.K.'s Small Space "Nursery"
I cannot wait until E.K. can have a room of her own, but until then, I'm making her small space nursery area work!
To have some sort of separation, I set up a little corner solely for her things. I included:
a pack 'n' play with a built-in changing table & side pockets for storage
large white plastic drawers for clothes/sleepers/socks
baskets for blankets, bibs, burp cloths, etc. (Dollar Tree is great for bins & baskets!) I also put small bins inside the plastic drawers for further organization
a diaper genie to eliminate any odors
I tucked things I wouldn't need immediately under the pack 'n' play (such as the cart cover).
The fold-over bassinet is used as a storage space for her plushies.
I also have stored a few items in the actual pack 'n' play until she outgrows her bedside bassinet.
Use a Hanger for Bib Storage
This tip is genius in my opinion! I struggled to find a place for bibs & this is such a great method to have them easily accessible while being out of the way. Check out a few other small space organization suggestions (including closet setup!) over at Crayons & Cravings!
DIY Baby Blanket Ladder
I instantly fell in love with this for three reasons:
Vertical storage = lots more space
It doubles as decor
It's a great weekend project to do with your S.O. to spend time together before baby arrives!
You can find the easy to follow steps over at Making Manzanita!
Pacifier Storage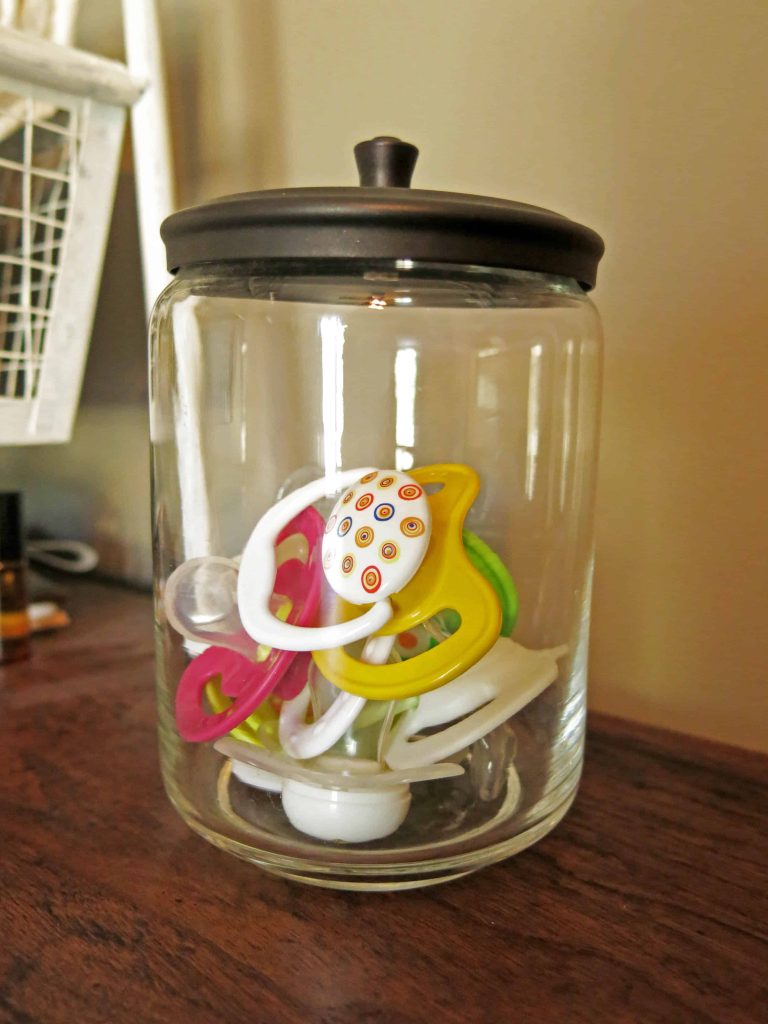 If there's one thing I am constantly hunting down, it's pacifiers!
This hack keeps them in one place, clean, & doubles as cute baby decor!
Check out this page to see how Making Manzanita organized & decorated her woodland themed small space nursery!
Vertical Storage
When there's no more floor space, look no further than the valuable real estate on your walls!
Use shelves, hanging baskets, & command hooks to add some major storage space to your small nursery!
Check out this post by Super Mom Hacks for four other great space-saving tips!
DIY Storage Ottoman
This adorable DIY ottoman is fantastic hidden storage.
Use it to store blankets, toys, or all those little baby shoes! Meanwhile, you can use it to rest your feet as you nurse!
Made from an Ikea box, this project is simple & the steps can be found here at Craftify My Love!
Related: How to be More Productive While Nursing
Double-Duty Decor
I've mentioned this a couple of times already, but I love decor that doubles as a functional piece.
This adorable coat rack, while being functional, goes along with the nursery theme!
Check out Little Miss Kate for other tips on nursery decor.
Let me know how you adjusted to small space living! Babies make things a little tighter, but a whole lot sweeter!
Also, don't forget to sign up for our newsletter! LOTS of freebies are in the works I dont want you to miss out!